| Item ID | Starting Bid | Bids | Current Bid |
| --- | --- | --- | --- |
| 104083 | $25.00 | 4 | $32.50 |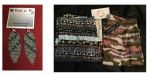 Blossom Leggings
2 pairs (one size) of Blossom Leggings donated by Melanie
Value: $40
Float or Fly Earrings
Beautiful silver and green chainmail style earrings.
Value: $70
http://www.facebook.com/Blossom-Leggings-1567497230226240/
http://www.facebook.com/FloatOrFly/
Each piece is handmade from individual metal rings that are opened, hooked together, then closed using a pair of pliers. The artist loves combining colours for pieces that are ideal for mixing and matching with different outfits. Using traditional chain maille patterns as a starting point, she experiments with different sizes and combinations then modifits them to create brand new designs.
Total package value: $110